FALL THEMED LOOSE PARTS PLAY
Easy, simple and fun – and great for their development.
THIS ARTICLE CONTAINS AMAZON AFFILIATE LINKS
Loose parts what?
Loose parts play is a great activity option – it usually has an easy setup, fast cleanup and is a great play option when you have various ages to entertain and teach. You can use materials easily found around your house, in nature or at the store – so it'll fit into any household budget. I'm a sucker for themed play invitation so here is the collection of fall themed loose parts play we did this year!
Fall Colours and Textures
To throw this one together, I went down into the storage room and pulled out a bowls worth of anything red, yellow and orange we had. Plastic lids, plastic animals… Making sure there was a variety in shapes and textures. Then added some fall flair with our fake leaves and the potpourri!
Materials Used:
Learning Resources alphabet lacing beads
Wooden blocks
Love Child squeeze pouch lids
Thrifted wooden circles
Fake leaves
Thrifted potpourri
Various sand & kitchen utensils
They mainly made fall bits and bobs soup in their flower pots, then dumped them out and started over.

Fall bits and bobs
Much like above, while I was thrifting I came across a bag of fall theme potpourri for $1 or $2 and grabbed it for loose parts play.
Kiddo had fun looking at the different pieces and asked about what each of them were. She had fun scooping the lentils into the bowls and practiced moving the bigger pieces with the tongs. The potpourri still smelled slightly, so it was a nice smelling activity too!

All About Pinecones
This one was an idea that came about while on a walk through the Greenbelt at the beginning of fall. The ground was covered in different pine cones so we collected them for this activity!
Materials Used
Pine tree bark (taken from the ground)
Pine leaves
Baby pinecones
Mature pinecones
In a usual habit, exploring the pinecones and the pine tree pieces ended in the making of a pine cone loose parts soup.

Leaf Pile
I was thrifting at the end of the summer and found an enormous bag of fake leaves for $1 or $2 and immediately snatched it up – while I love real leaves, I also loved the idea of having a stash of fake leaves that I could quickly pull out and wouldn't leave a mess behind.
Materials used
Fake leaves
Small buckets, shovel and rake (We used sand toys, but these would be similar)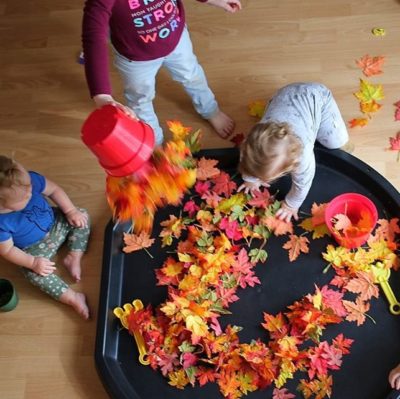 Leaves were raked, thrown, built into piles, tasted, stacked, thrown into buckets… Everyone had a different idea of how they wanted to play with them and that's okay! We talked about the different colours, why leaves change colours and how people rake them up when they fall.
There you have it! Our four fall loose parts explorations. There would have been more, but we spent most of time outdoors this fall soaking in the nice weather before the snow and cold arrived.